The Dentists
Dr. Troy Gombert, DDS, FAGD, PC
Dr. Troy Gombert likes designing smiles. Then again, he's always liked design. His undergraduate degree was in architectural design, a field that requires both technical knowledge and an artistic eye, skills that translate perfectly into cosmetic dentistry, Dr. Gombert's specialty.
---
Dr. Dean Rohwer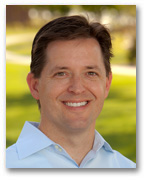 Chandler Dentist, Dr. Dean Rohwer has plenty to smile about. He has been blessed with a happy family, a strong education, a thriving career, and personal satisfaction from his service to charity and the community.
Starting with his family, Dr. Rohwer is a third generation native Arizonan, with a grandmother and father who were born here. His mother, born in Michigan, has lived here most of her life. His older sister is the cofounder of a Wisconsin company that makes tissue arrayers for hospitals, and his younger brother is a pastor in a small community church in Montana. Dr. Rohwer married his high school sweetheart, Holly. She is also native to Arizona. They have two young children, Paige (4) and Jake (1). He balances his life with sports and the outdoors. He continues to play soccer golf and mountain biking to this day, and has traveled most areas of Arizona.