CEREC - One Visit Dentistry

3-D technology creates natural looking crowns, inlay/onlays and veneers in a single appointment.


The dental profession is evolving, and thanks to recent innovations in dentistry, proper dental care does not have to take away from your regularly scheduled life. New technology helps diagnose problems earlier, allowing us to treat problems sooner with less invasive techniques. Parkside Dental offers the latest in convenient, comfortable dentistry with CEREC. In the CEREC machine is a powerful computer aided design technology called CAD/CAM. This technology allows the doctors to custom fabricate tooth colored porcelain restorations such as Inlays, Onlays, Crowns and in limited cases, Bridges right here in our own office in a single visit.

Technology today is changing our lives everyday. Many people, however, aren't aware that technology also is impacting dentistry in new and exciting ways. Cutting edge innovations and dental instruments are requiring less time in the dental chair, causing less discomfort and creating satisfying results. One break through technology called CEREC, allows Parkside Dental to quickly restore damaged teeth with natural colored, biocompatible ceramic fillings saving his patient's time and inconvenience. This is the future of dentistry.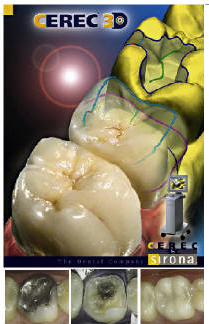 The Advantages of CEREC


Parkside Dental utilizes the principles of Biomimetic Dentistry, which at its heart is the preservation of as much natural tooth structure as possible when restoring teeth.
CEREC restorations are more convenient because they are completed in one single visit.
CEREC restorations are more comfortable because patients will not have to wear temporary crown for several weeks.
CEREC restorations are much less likely to be sensitive to chewing or to cold temperatures after they are completed. This is due to the nature of biocompatible materials and the superior adhesives that are used in the bonding process.
CEREC restorations feel and function just like natural teeth.
How does the instrument work?

CEREC uses CAD/CAM (Computer Aided Design/Computer Aided Manufacturing) technology, incorporating a camera, computer and milling machine in one instrument. A special camera is used to take an accurate picture of the tooth to be restored. This optical impression is transferred and displayed on a color computer screen, where Parkside Dental or his staff uses CAD technology to design the restoration. Then CAM takes over and automatically creates the restoration while the patient waits. Finally, the new restoration is bonded to the surface of the old tooth. The whole process can be completed in a single visit.




What does this innovation mean for a patient?

A tooth-colored restoration means no more silver fillings or metal in the crowns causing black rings at the gum line or unnatural opaque looking teeth, discoloring smiles. The restoration is natural-looking, compatible with tissue in the mouth, anti-abrasive and plaque-resistant. Parkside Dental no longer needs to create temporaries or take messy impressions or molds that make you gag and send them to a lab. Because of this, the traditional second and third visit may be eliminated. Crowns do not need to be returned to the Dental Lab due to a bad fit. The CEREC has over a decade of clinical research and documentation to support the technology. The restorations have been proven precise, safe and effective.